Austerity is Global – so is our resistance.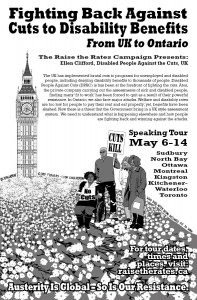 The Raise the Rates Campaign is excited to announce an Ontario-wide speaking tour this coming May 2014 of Ellen Clifford from Disabled People Against Cuts (DPAC) UK. OnFacebook: https://www.facebook.com/events/383847668424188/
DATES & LOCATIONS
• May 6: Sudbury
Details: Tuesday, May 6th, 7pm, at Kinsmen Room A of the Parkside Older Adult Centre on Durham St https://www.facebook.com/events/1427609067493788/?ref_newsfeed_story_type=regular
•May 7: North Bay meeting with Organizers
• May 7: Ottawa
Details: Evening Town Hall Wednesday, May 7th, 6:30pm, at Somerset West Community Health Centre (55 Eccles St) https://www.facebook.com/events/685486958164060/
• May 8: Montreal Details: Thursday, May 8th, 6:30pm – Accessibility, Disability and Resisting Austerity at CÉDA, 2515 rue Delisle (Métro lionel groulx). Organized by: Comité d'action solidaire contre l'austerité – CASA. QPIRG concordia, Endorsed by: Movement Action Chomage. Comite Chomage Est
• May 12: Kingston Coalition Against Poverty
Details: Monday, May 12th, 6pm at Kingston Public Library Central Branch (130 Johnson St), Delahaye Room.
https://www.facebook.com/events/616944901716629/
• May 13: Kitchener-Waterloo
Details:Tuesday, May 13th, 6:30pm at Queen Street Commons Cafe (43 Queen St South)https://www.facebook.com/events/225928060937800/?ref_newsfeed_story_type…
• May 14: Toronto
Details: Wednesday, May 14th, 6pm at St. Luke's Church, 353 Sherbourne Street (at Carlton). Accessible space. ASL available. Free meal provided. https://www.facebook.com/events/618128368277697/
Who is DPAC: The Cameron Government in the UK has implemented brutal cuts to programs for unemployed and disabled people. This includes a system called the Work Capability Assessment that has been used to deny benefits to thousands of people. Disabled People Against Cuts (DPAC) is an organization in the UK that has been at the forefront of challenging this situation. It has mobilized disabled people to fight back and formed alliances with community organizations and unions in resisting the austerity measures of the Cameron Government. The hated private company, Atos, that was carrying out the assessments of sick and disabled people has been forced to quit as a result of the powerful resistance DPAC and others have taken up.
Here in Ontario, we also face major attacks. Ontario Works (Welfare) and ODSP (Disability) rates are too low to enable people to pay their rent and eat properly. The Special Diet and Community Start Up have been slashed by the Ontario Liberal government. Under huge pressure from ongoing community action, the Liberals have promised not to merge OW and ODSP but the danger remains that they will bring in a UK style assessment system that would pose a huge threat to disabled people on ODSP. We need to understand what is happening elsewhere and how people are fighting back and winning against the attacks.
From May 4-15th, Ellen Clifford from DPAC will be visiting Toronto, Kitchener, Sudbury, Kingston and Ottawa. She has been campaigning with the disabled people's movement for 15 years and, since 2011, has sat on the National Steering Committee of DPAC. She is also a member of Unite the Union and works to build solidarity between workers in unions and those forced to live on social benefits.
Visit: raisetherates.ca for the full schedule & for more information call the Ontario Coalition Against Poverty at (416) 925-6939
Join the Raise the Rates Campaign Today!
Raise the Rates is a campaign to fight poverty by raising social assistance rates in Ontario. Jointly organized by the Ontario Coalition Against Poverty (OCAP), the Canadian Union of Public Employees (CUPE) Ontario, Sudbury Coalition Against Poverty (S-CAP), Kingston Coalition
Against Poverty (K-CAP), Poverty Makes Us Sick Waterloo Region, Poverty Makes Us Sick Ottawa, OPSEU and other grassroots anti-poverty organizers and trade union allies from across Ontario. We are a growing movement united in fighting for:
• Raise Social Assistance Rates 55%: reverse the cuts, raise the rates!
• Restore Special Diet and Community Start-Up Benefits
• Stop the Attack on Disability Benefits
• Living wage for all: Raise the Minimum wage above poverty wages
Visit: RaisetheRates.ca https://www.facebook.com/RaiseTheRates #RaisetheRates